Check out this interview with Kostya Deev, Senior Cloud Developer at Bluware.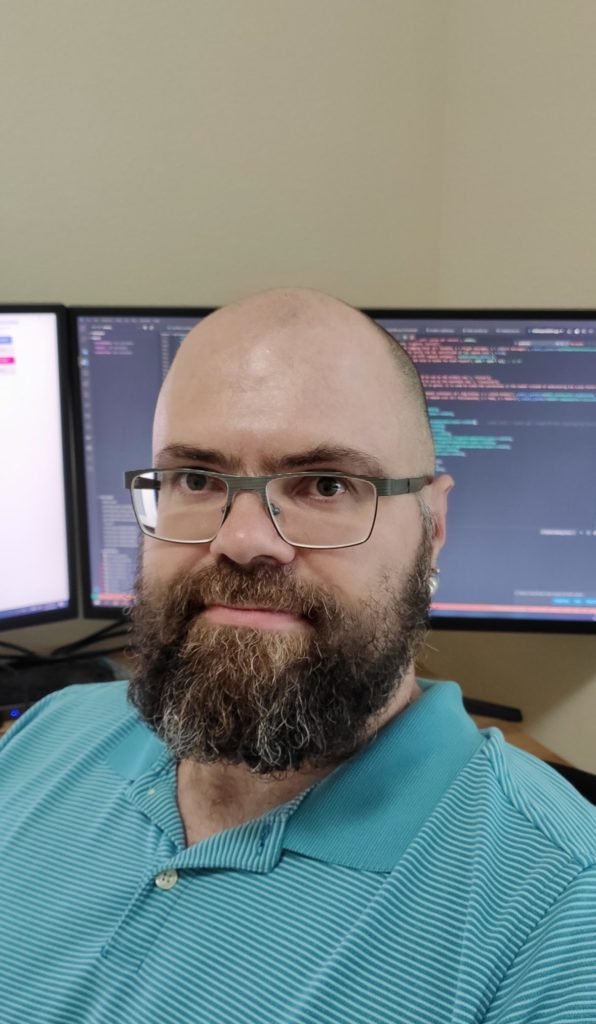 Who is Bluware?
Bluware is paving the way for the global energy sector to solve the most challenging objectives in subsurface. We are based in Houston, Texas and Oslo, Norway. Some of the most talented technology architects, subject matter experts, software engineers, and analysts from Bluware, Headwave, and Hue AS came together in 2018 to merge as Bluware Corp. Since then we added Kalkulo AS. Our team has subsequently grown to about 150 employees with a goal of empowering a sustainable digital future for the upstream E&P sector.
We are unified in our pursuit to make a positive and rapid impact on the energy industry. Historically, we have achieved this goal by working alongside our clients, making their goals our goals. The projects we are working on are highly demanding in their complexity which is right in our wheelhouse. This also means that we need to continuously learn and expand our boundaries which is the core to our team's DNA. In addition to working closely with our clients, we partner with global technology providers so that we are always a step ahead with the latest innovations in digital and cloud technologies.
What is the culture like?
Bluware's culture is quite different from most companies in the energy sector. Our CEO, Dan Piette, supports a very open and collaborative environment. We are encouraged to tackle challenging problems and test out new ideas boldly. I feel we think differently from other companies in the sector.
Communication is a key factor contributing to our success. We host regular company town hall meetings to stay informed on projects that teams are working on. I am a new resident to the United States, as are many of my Bluware team members, so I especially enjoy these opportunities to connect with my colleagues and feel a real sense of comradery. Our 150 employees are from 29 different countries!
Bluware is a flat organization with growth opportunities to achieve my professional ambitions, so I see a long and fruitful future here. The company understands our team members have a life and interests outside of work. A great company culture, excellent benefits, and career opportunities for employees are important to Bluware. The company provides generous benefits, flexible working arrangements, and training allowances. Best of all I have the opportunity to participate in ping-pong and foosball tournaments in our office game room! I have been missing this lately as most of us are working from home due to COVID-19.
What is it like in the office, or for now, what is it like working from home?
We're all self-driven at Bluware and our office has always encouraged flexible working arrangements, even prior to the COVID-19 pandemic, so the transition has been quite easy. We were already using Microsoft Teams to collaborate with colleagues and share information, so we can work remotely from anywhere. Plus, having an office in Oslo, requires us to collaborate with other team members remotely.
What do you do at Bluware?
I have more than 15 years of experience in the seismic data processing and imaging domain. I'm originally from Russia where I studied both Computer Science and Geoscience. After completing my master's degree, I moved to Israel where I worked in high performance computing (HPC), distributed computing, and cloud resource utilization for geological and geophysical software.
Over the years, I've acquired a genuine interest in geophysical cloud computing, so I decided to move to the United States to join Bluware.
At Bluware, I'm concentrating on the utilization of cloud services in applications for seismic data processing and imaging algorithms.
Seismic data workflows are based on applying multiple computations to seismic data. Typically, data is loaded into applications to be performed. Workflows are then repeated each time new data is received. I'm working on a really cool project to bring single or multiple computations to the data in real-time and deliver the results right from the source data.
As the size of seismic data keeps growing from gigabytes to petabytes, it has become difficult to move this data for computations, so we are creating a method to stream data into workflows that run on many computers in the cloud in parallel. We call it ScaleOut™. ScaleOut is a cloud-native platform that allows us to run algorithms chained into workflows using cloud facilities. In the case of seismic data, these are geophysical algorithms, but the system could work well on other data types in other industries.
I'm responsible for the Kubernetes configuration and deployment, low-level code profiling and optimization, distributed system architecture, development of micro-services, and internal UI. It really challenges me, and I am constantly learning new skills to solve the problems in innovative ways.
What is your team's latest achievement?
We recently created a solution to handle highly complex algorithms, such as pre-stacking one terabyte of data in real-time for multiple users. We can now calculate each query with a latency below 0.5 seconds. Each user can apply their own data and manage their own workflows. It's as simple as point to your data and click. This is very exciting, as my team has applied a simple and interactive solution to a complex problem which previously took weeks to complete.