Do you enjoy a challenge and want to work with smart, like-minded people?
By working for a small organization like Bluware, you have a superior opportunity to make an impact. Our organization is made up of approximately 150 geoscientists, engineers and developers based in Houston, Texas and Oslo, Norway. If you get excited by the thought of moving the needle and affecting change, rather than being another cog in the wheel, you should keep reading.
ON A MISSION TO SHAPE THE FUTURE OF ENERGY
The energy industry as we know it will change quite drastically in the next few years. Digital transformation is reshaping the industry and Bluware is charting the course for truly disruptive innovation that will outperform anything else on the market. It won't be easy. Actually, it will be a heck of a challenge and that is what drives us.
FOR OURSELVES & OUR COLLEAGUES
Our team is made up of some of the most talented technology architects, subject matter experts, software engineers, analysts, and innovators in the industry. We're all self-driven and enjoy an environment where everyone's opinions matter equally.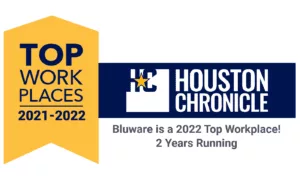 Bluware has been awarded a Top Workplaces honor two years running by The Houston Chronicle Top Workplaces. The list is based solely on our employees' feedback gathered through a third-party anonymous survey which uniquely measures 15 culture drivers that are critical to the success of any organization.
Benefits of working at Bluware
Flexible working arrangements
WORK FROM HOME
OR THE OFFICE
Medical, Dental, & Vision Benefits
Collaborative Environment
401k Plan WITH COMPANY MATCH
ALWAYS LEARNING WHILE WE WORK TOWARDS A COMMON GOAL
Our team is unified in our pursuit to impact the energy industry. Historically, we have achieved this by working alongside our clients, making their goals our goals. The projects we are working on are highly demanding in their complexity and require us to solve intricate puzzles every day. That also means that we need to continuously learn and expand our perspectives. In addition to working closely with our clients, we partner with global technology providers so that we are always in step with the latest innovations.
CULTIVATING & PRESERVING A CULTURE OF DIVERSITY & INCLUSION
Our employees are from 29 countries! We embrace and encourage our differences and characteristics that make each employee unique! The collective sum of our individual experiences, knowledge, and capabilities represents a significant part of not only our culture but our reputation and achievements.
Supporting Social & Environmental Organizations
Each quarter Bluware supports a social or environmental non-profit organization and matches donations made by Bluware employees. We've donated more than $17,000 since 2020. Some of the organizations we support include:
TOO GOOD TO BE TRUE?
Submit your application today to find out.